On-orbit Refueling, Servicing Extends Life for Old Satellites, Promises Longer Mission Capabilities with Network of Stations
Editor's Note: This article is part of The Space Report 2021 Q4. To read additional articles about space station development, 2021 launch and payload analysis, space tourism, and other space industry analysis, purchase quarterly editions here.
To learn more about subscribing to our digital site, with 15 years of content and data resources, subscribe here.
Introduction | Space sustainability has taken a significant step forward with on-orbit refueling and satellite servicing. A concept that decades ago began with astronaut extravehicular activities is now advancing to a point where no human assistance is needed. New innovations have restored life to old satellites and promise to extend the range of future spacecraft missions.
Somewhere about 2,000 kilometers (1,242 miles) above Earth, the world's first space-based gas station is ready for service. The Tanker-001 Tenzing Fuel Depot reached low Earth orbit (LEO) in June 2021. Three months later, Orbit Fab, the company that developed the depot, announced that in partnership with SpaceX and Spaceflight Inc., it would head another 34,000 kilometers (21,126 miles) higher, into geostationary orbit (GEO), to place its second fuel depot.1
Orbit Fab has trademarked its slogan "Gas Stations in Space," but it is not the first company to achieve a satellite refueling in geostationary orbit. Northrop Grumman subsidiary SpaceLogistics in February 2020 docked its Mission Extension Vehicle (MEV-1) to a nearly depleted Intelsat IS-901.2 Its second vehicle, the MEV-2, docked with another Intelsat satellite in April 2021.3 A third unit, the Mission Robotic Vehicle, projected to launch in 2024,4 will have two dexterous robotic arms developed by the U.S. Naval Research Laboratory. The robotic arms will place Mission Extension Pods onto aging satellites, providing six more years of life.5 All three of the Northrop Grumman vehicles require either a jet pack or a pod attaching to a customer's satellite.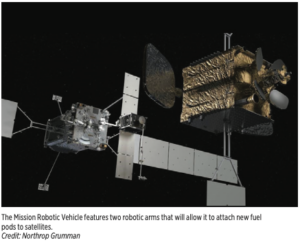 Orbit Fab's hardware is a fuel tug and shuttle system that will dock to a satellite, deliver fuel from the shuttle, and then allow the satellite to disengage, much like a ship's tender used to support and resupply other boats and ships at sea. Northrop Grumman and Lockheed Martin Ventures are among the investors backing Orbit Fab's refueling system. Orbit Fab sees market potential in LEO and GEO for satellites, including for the Department of Defense, said Jeremy Schiel, Orbit Fab's co-founder and chief development officer. The greatest potential, he says, may come from space concepts yet to be developed.
"What I'm really excited for is the high school and college student who is just now starting to think about space applications," he said. "They're not bounded by the single-use paradigm we've been burdened with. They can ask themselves 'What crazy idea can I come up with now that I have a reliable network?' We have so much flexibility now that we're not bound by using only the fuel that you bring up."
Orbit Fab plans to have its GEO tanker in place as early as this year and the first two shuttles in orbit by 2023, Schiel said.
Tanker-01, in LEO, is stocked with high-test peroxide but was meant to be more of a testbed, Schiel said. Tanker-02, once in GEO, will provide multiple types of fuel. The next development phase will be placing multiple tankers and shuttles to create a network of stations Shiel describes as "an orbital highway." That network, he envisions, will allow spacecraft to extend mission life to nine, 12 or 14 missions and will also allow operators to hopscotch through space, connecting with more remote stations that will allow spacecraft to maneuver into cislunar space and beyond.
In January, Astroscale U.S. signed the first on-orbit satellite fuel sale agreement for Astroscale's Life Extension In-Orbit (LEXI) Servicer. LEXI is the first satellite specifically designed to be refueled in space. Scheduled for launch to GEO in 2026, LEXI spacecraft will service satellites for commercial operators, the U.S. government, and other world government partners by managing attitude control, momentum management, inclination correction, and even satellite retirement to a graveyard orbit if necessary.6
While these fuel depots and satellite servicers are largely in the development stages, Schiel sees their eventual use as a significant shift in space history. "These are major transitions from a global space economy to an in-space economy," he said, noting that the current economy provides goods and services used on Earth. "The transition we're seeing now is of people buying goods and services to be used in space. And that's really exciting." New as it is, it's a future NASA described in detail in its 2010 report "On-Orbit Satellite Servicing Study." In May 1973, NASA restored the new Skylab to full functionality after replacing a thermal shield in space. Twenty years later, the Hubble Space Telescope had corrective optics installed. Both those efforts, however, required astronauts on extravehicular activities (EVA) missions.7 In 1989, NASA's Headquarters Office of Space Flight drafted a strategic plan to pair the International Space Station (ISS) with an orbital vehicle that would handle refueling, resupply, repair, and system upgrades of satellites. A "space tug" that would handle servicing was canceled due to budget pressure.8
"The proliferation of abandoned satellites poses known hazards to newer members of the constellation and may occupy unique and economically valuable orbital real estate that could be recycled for other uses," the NASA report concluded. "… Satellite servicing is a tool — a tool that can serve as the "master enabler" to create the architectures needed to conquer the next frontiers in space."
The space agency didn't give up on a satellite servicing vehicle. Its three Robotic Refueling Missions, last conducted in 2020, tested robotic refueling.9 Working with Maxar Technologies, NASA is developing the On-orbit Servicing, Assembly, and Manufacturing 1 (OSAM-1) mission spacecraft. In addition to having robotic arms to assist with fueling and servicing, OSAM-1 will include a payload called Space Infrastructure Dexterous Robot (SPIDER) that will demonstrate in-space assembly and manufacturing. The launch date for OSAM-1 and SPIDER is anticipated for 2024.10 The European Space Agency also is developing on-orbit technology. In 2021, it issued a €100 million mission proposal for a vehicle capable of a range of in-orbit needs, including debris removal and satellite refueling.11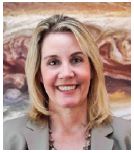 Lesley Conn is director of Research & Analysis for Space Foundation.
Reach her at lconn@spacefoundation.org.