Blue Origin Enters the "Roaring Twenties" with First Space Tourist Launch of 2022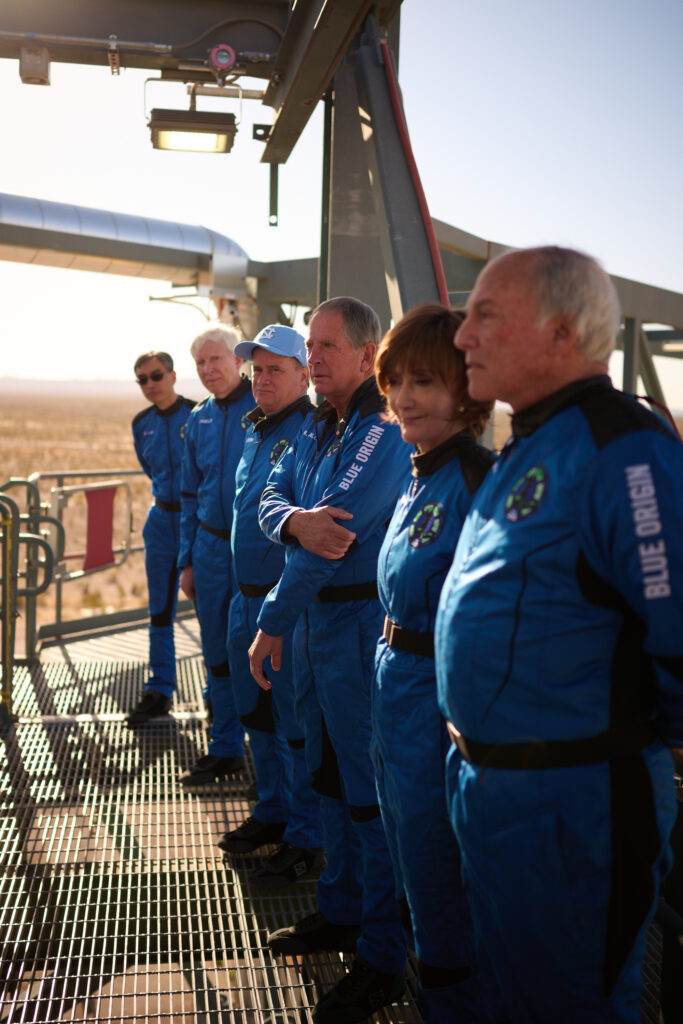 The six NS-20 crew members stand on the launch tower during their training. Credit: Blue Origin
By Zoe Hobbs
zhobbs@spacefoundation.org
Dubbed the "Roaring Twenties" mission, Blue Origin completed its 20th successful launch of New Shepard on Thursday, flying six tourists on a brief trip to space after a two-day weather delay. The vehicle lifted off from Launch Site One in West Texas at 8:58 a.m. CDT (13:58 UTC).
The Crew Module reached an apogee of 351,274 ft (107.07 km/66.53 mi) during the spaceflight and touched down 10 minutes after liftoff. Both the Crew Module and the booster, referred to as the Propulsion Module, landed safely to be reused on future Blue Origin flights.
This flight was the fourth crewed New Shepard flight and the second with full occupancy. The "Roaring Twenties" nickname again becomes relevant as the total number of Blue-flown tourists reached 20 with this flight. Of the six crew members, five were paying customers, including George Nield, an advocate for commercial spaceflight who founded Commercial Space Technologies, and Marc and Sharon Hagle, the first married couple to fly to space on a commercial mission.
Gary Lai, one of Blue Origin's first employees, replaced comedian Pete Davidson to take the final seat of the mission. One of the primary architects for the Crew Capsule's safety systems, Lai was able to experience his designs in action from the boundary of space.
The NS-20 mission marks the first tourist flight in 2022 after space tourism's triumphant return in 2021. Last year's activity culminated in 22 private astronauts reaching the Kármán line (100 km/62 mi) and three more reaching 50 miles to earn FAA human spaceflight recognition. Private astronauts last year also boarded the International Space Station (ISS) for the first time since 2009.
The next commercial spaceflight is set for April 6. Axiom Mission 1 will be the first all-private mission to the ISS.
Virgin Galactic reopened ticket sales on Feb. 16, requiring a $150,000 deposit for the $450,000 ride on its spaceplane. The company announced its fleet enhancement program will be completed by Q3 2022 and the full commercial launch service will start in Q4.