U.S. Joins Allies in Space Operations 'Vision'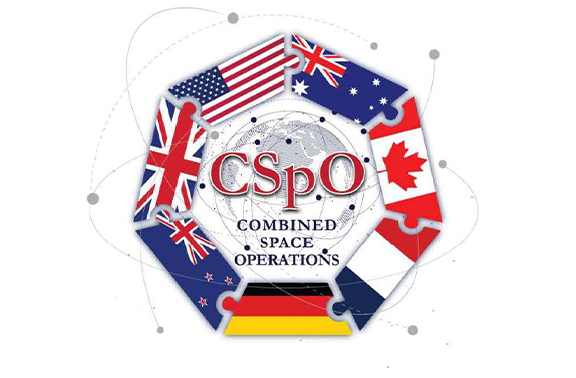 By Tom Roeder
troeder@spacefoundation.org
A shared space operations vision accord now binds the United States, Canada, United Kingdom, Germany, France, Australia and New Zealand, the Pentagon announced Tuesday.
The Combined Space Operations Vision 2031 accord commits the seven nations to a code of conduct in space, including a mission to "generate and improve cooperation, coordination, and interoperability opportunities to sustain freedom of action in space, optimize resources, enhance mission assurance and resilience, and prevent conflict."
"These guiding principles steer the initiative's objectives and are supported by several lines of effort, from developing and operating resilient, interoperable architectures to fostering responsible military behaviors in space and sharing intelligence and information, all leading to the pursuit of a safe, secure, and sustainable space domain," the Pentagon said in a Tuesday statement.
The partner nations met in December to finalize the vision statement, which comes after years of work by U.S. Space Command to build closer ties with allies, including allied participation at Vandenberg Space Force Base's Combined Space Operations Center in California. The center gathers data and intelligence on debris and spacecraft in orbit.
The Pentagon called the vision document released Tuesday an "initiative to address the overarching need to encourage responsible use of space, recognizing challenges to space sustainability, threats presented by technological advances, and the increasingly comprehensive and aggressive counter-space programs of other nation states."
The vision pact comes as fears increase that future wars could reach into orbit as rival states seek to take out the space capabilities of the U.S. and its allies.
"Space has evolved into a contested and congested operational domain," the seven nations agreed in the vision accord. "As space becomes more crowded, the security and stability of this critical domain are endangered."
Rival nations including Russia and China have demonstrated capabilities to target satellites in orbit. In November, Russia tested a direct-ascent anti-satellite missile, destroying one of its own defunct satellites, which shattered into more than 1,500 pieces of debris in low Earth orbit, the Pentagon and State Department have said.
China in January used its Shijian-21 satellite to tow one of its nonfunctioning satellites from geosynchronous orbit to a higher graveyard orbit. China has said the Shijian-21 is designed to carry our debris removal experiments in space, but U.S. officials have said it could also be used to target and grapple enemy satellites in orbit.
"Some nations have developed capabilities designed to deny, degrade, and disrupt access to and utilization of space-based capabilities," the allies agreed in the vision statement. "These nations have demonstrated the ability to hold space-based capabilities at risk and to target critical assets in an effort to reduce our military effectiveness in a crisis or conflict."
Speaking at a Missile Defense Advocacy Alliance luncheon in Colorado on Tuesday, U.S. Rep. Doug Lamborn, R-Colo., the ranking member of the Strategic Forces Subcommittee of the House Armed Services Committee, called work with allies a key to deterring aggression in space.
"Frankly, Russia and China have been working night and day," he said. "They know where our seams are to exploit our weaknesses."
In London, Air Vice Marshall Harvey Smyth, who heads the U.K. Defense Ministry's space directorate, praised the seven-nation pact.
"Through the sharing of intelligence, information, and training with allies and partners, we can be greater than the sum of our parts in our joint pursuit for a safe and secure space domain," Smyth said in a statement.
The sole global pact regulating space behavior is the 1967 Outer Space Treaty, which forbids placing nuclear weapons aboard spacecraft and bars nations from declaring celestial bodies including the Moon as sovereign territory.
In their vision statement the seven nations called for new international accords to govern behavior in space, noting "the lack of widely accepted norms of responsible behavior and historical practice increases the possibility of misperceptions and the risks of escalation."
Western nations have increased calls for peace in space in recent months, including a move by the the North Atlantic Treaty Organization.
NATO in January announced that attacks in space could trigger a combined response by some or all of its 30 member nations.
"At the 2021 Brussels Summit, allies agreed that attacks to, from, or within space present a clear challenge to the security of the Alliance, the impact of which could threaten national and Euro-Atlantic prosperity, security, and stability, and could be as harmful to modern societies as a conventional attack," the alliance said in a January statement.
Lamborn said he supports the idea of a new treaty to regulate the behavior of nations in space. But he said the treaty needs support from all spacefaring nations, rivals and allies.
"If Russia and China are not on board, a new outer space treaty would be limited in its usefulness," he said.