Global Space Economy Nears $447B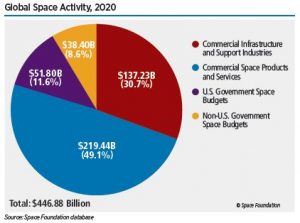 The global space economy reached a new high of nearly $447 billion in 2020, an increase of 4.4% from a revised 2019 figure of $428 billion. Commercial space revenue continued to total nearly 80% of this year's space spending.  Commercial revenue is divided into two sectors: Products and Services and Infrastructure and Support Industries.
For the annual analysis of government space spending, Space Foundation reviewed civil government and military spending of 36 governments or cooperative bodies worldwide, relying on publicly disclosed budgets, media reports, estimates based on gross domestic product, and, in some cases, correspondence with government officials.
The top three governments in the global space economy remained the same in 2020: the United States, China, and the European Space Agency (ESA), according to Space Foundation research. These three entities constituted more than 81% of government space spending in 2020. The U.S. alone spent nearly 3.9 times as much as the next nation, China, which in turn spent 1.6 times as much as ESA. All three increased their space spending in 2020, the U.S. by the smallest margin of 5.6%, followed by ESA (11.4% in U.S. dollars) and China (17.1% in CNY).
For access to the full report, plus an analysis of President Biden's first space budget, 2020 data on the European workforce, and other analysis of the space industry, subscribe here to quarterly editions of The Space Report. Subscribe to our online database of all reports since 2005 here.