Global Space Economy Grows in 2019 to $423.8 Billion, The Space Report 2020 Q2 Analysis Shows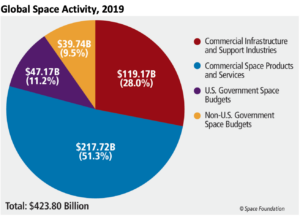 COLORADO SPRINGS, Colo. (July 28, 2020) — The global space economy in 2019 grew more than $9 billion over the previous year, reaching $423.8 billion, according to new findings published by Space Foundation's 2020 second quarter issue of The Space Report.
The growth represents a 2.2% increase from the 2018 global space economy, which was estimated at $414.75 billion.
For much more on the global space economy and other analysis on the space industry, read the full edition of The Space Report 2020 Q2.
To become a subscriber and download the full report, click here.