Resources
---
2011 – Satellite Television Snapshot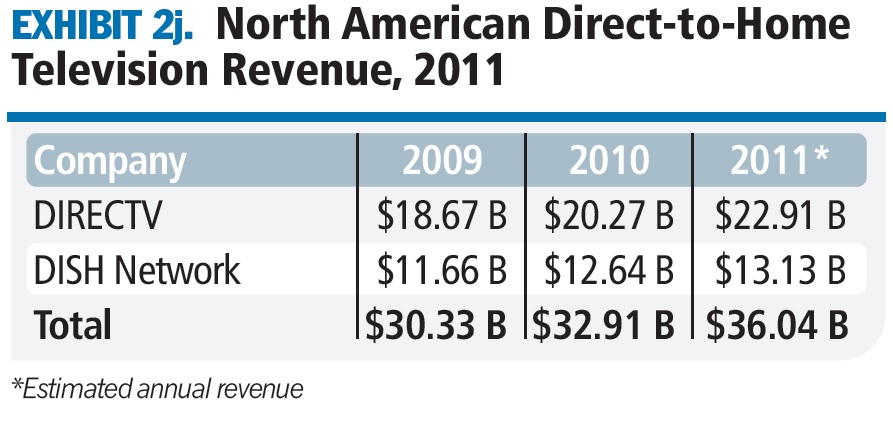 DTH television's estimated revenue of $86.42 billion for 2011 makes up 78% of the total revenue for the commercial space products and services sector. North American DTH companies DIRECTV and DISH Network remain the two market leaders, with combined estimated total revenues of $36.04 billion in 2011. As of September 2011, the companies reached a combined total of 33.7 million subscribers. Other DTH television providers generated the remaining revenue of $50.38 billion. Growth in high definition channels, digital video recorders, and interactive services continue to drive the DTH market in North America. There is still slow progress in the 3D television market for DTH in North America, with a total of only four channels for both DIRECTV and DISH since 2010.
India's DTH subscriber base of 33.4 million as of September 2011 nearly surpassed that of the North American market. Factors such as low average revenue per user, high acquisition costs for new content and subscribers, and various taxes have not prevented DTH operators from increasing their subscriber base in India. According to market research firm RNCOS, India is expected to reach 69 million DTH subscribers by 2014.1 Another opportunity for the DTH sector is the Indian government's approval of cable digitization in October 2011. With this mandate, the pay television market will become more competitive as demand for digital channels increases. DTH operators believe they are better positioned to compete with their cable counterparts since they have the technology in place as well as steady capital to make further investments.2 The Indian DTH market is served primarily by six companies: Dish TV India, Tata Sky, Sun Direct, Big TV, Airtel Digital TV, and Videocon D2H.
Note: This exhibit is from The Space Report 2012.
Related Resources
"Indian DTH Industry Showing Incredible Growth." RNCOS. May 4, 2011. http://www.rncos.com/Press_Releases/Indian-DTH-Industry-Showing-Incredible-Growth.htm. (accessed March 12, 2012)